16 Cool Water Sports Gadgets You Wish To Have For Your Summer Holidays
Get your gears ready and make a splash on the water this summer. Water sports gadgets and gears are becoming hot topic day by day. A few years ago beach was quite boring as there were just swimmers and people having sunburn. As years pass by beaches are so full of unique and cool summer gadgets to show off or can say to experience a different level of water sports adventure.
And one of the biggest reasons for water sports popularity is YouTube. Yes! Everyone is busy creating videos for their YouTube channel. Just to get their videos popular over the internet they keep searching for the coolest water sports equipment.
Also Read: 11 Full Face Snorkel Masks For Underwater Experience
I know by now you may also want to have your own water sports gadget. Wondering where to find the coolest one? No worries, I have gathered around some of the most coolest and unique water sports gadgets you can actually have your hands on.
Cool Water Sports Gadgets For Your Summer Vacation
Here in this article, you'll find everything from the water cycle, water motorized bikes to deep-sea submarines and much more. And by the end of this list, you may want to upgrade your old diving gear.
Cruise your way through those curvy waves of the sea in style. Jetfoiler is a special water motorized water sports gadget that goes by its name. Boy, it foils all the attempts Mother Nature makes to drench you into its salty water by keeping you afloat through a remote-controlled surfboard. Find it here.
Step right into the abdomen of a motorized dolphin shaped boat to get an excellent cruising experience every time you hit the waves. This cool water sports gadget can make even real dolphins drool over your skills and maybe you can end up making a small fan club underwater. Find it here.
Walking on water is still not possible but biking over water can come true with Schiller X1 Water Bike. World's coolest and innovative water bike machine to let you experience an extraordinary water based experience. Get ready to have an unparalleled cycling experience in oceans, lakes, rivers, and canals around the world. Find it here.
Swimming underwater when you can barely cover a few meters is so dull and cliche. So why swim when you can swirl and loop as per your whims. Time to make way for The Subwing, a cool underwater gadget that gives you a flying experience through its wings that operate underwater. Find it here.
Why float when you can sprint on the surface of the water? Try this cool water sports equipment named awake that can make you feel like an aqua-man. It's an easy to use surfboard that runs on a remote controlled motor installed on the tail of the surfboard. Find it here.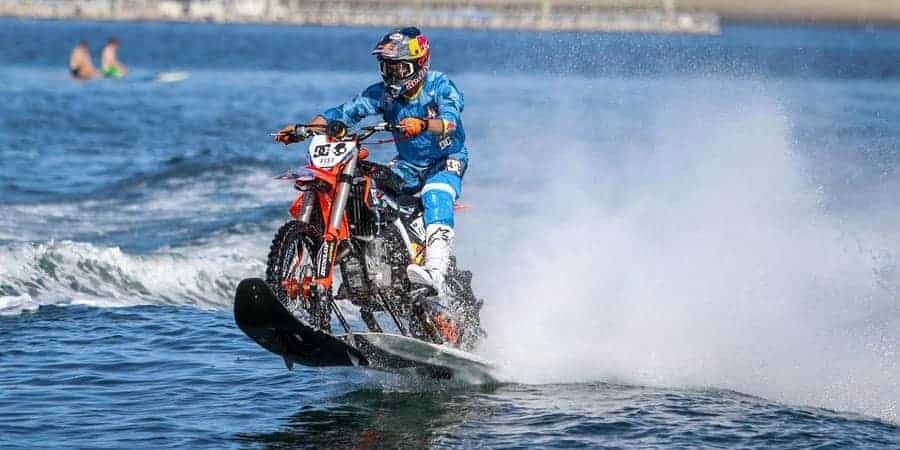 Ace your way through the water streams by cutting waves into the half with this awesome Water Dirt Bike. Ride on a bicycle into the wobbly water terrains through this crazy motorized water sports gadget that can give any orthodox water sports boat a run for its money. Find it here.
Now vroom beneath the water to get a "fishy" experience of your lifetime. This underwater scooter is one of the coolest water sports gadget available in the market and is a must buy for all the aqua-freaks of the world. Find it here.
Ready to bring some shockwaves to your water sprinting adventures? This electricity driven Jet Body Board is one of the most sought-after water sports gear and gadgets in the world. Known for its slim shape and mass, this product offers unique riding experience to its rider. Find it here.
Now you can experience all of the pleasure of a stand-up paddleboard with no dull paddling part with the inflatable motorized electric water board. It is powered by a compact 12-volt battery, includes a 200-pound capacity, and includes a 6 inch thick PVC coating for extra durability. Find it here.
Time to come out of the cliche segments of slow and boring submarines. This series of Multi-Purpose luxury submarines can give any other underwater gadget or water sports gear a run for its money. The submarine can accommodate up to three people at one time and gives you an opportunity to share your underwater experience with your friends and family. Find it here.
Get ready for cylinder-free diving experience with this unique water sports equipment. Airbuddy tankless diving gadget allows you to navigate your way underwater without any burden of a cylinder on your back for more than forty -five minutes which makes its one of the most sought-after water sports gear and gadget. Find it here.
We all love the spine-chilling adventures that many water sports gear and gadgets have to offer. However, what if we tell you that you can actually up the ante by experiencing something better like flying on the water surface as if there is no gravity left in the world. This cool motorized water sports gadget allows you to do that and is one of the most sought-after product nowadays. Find it here.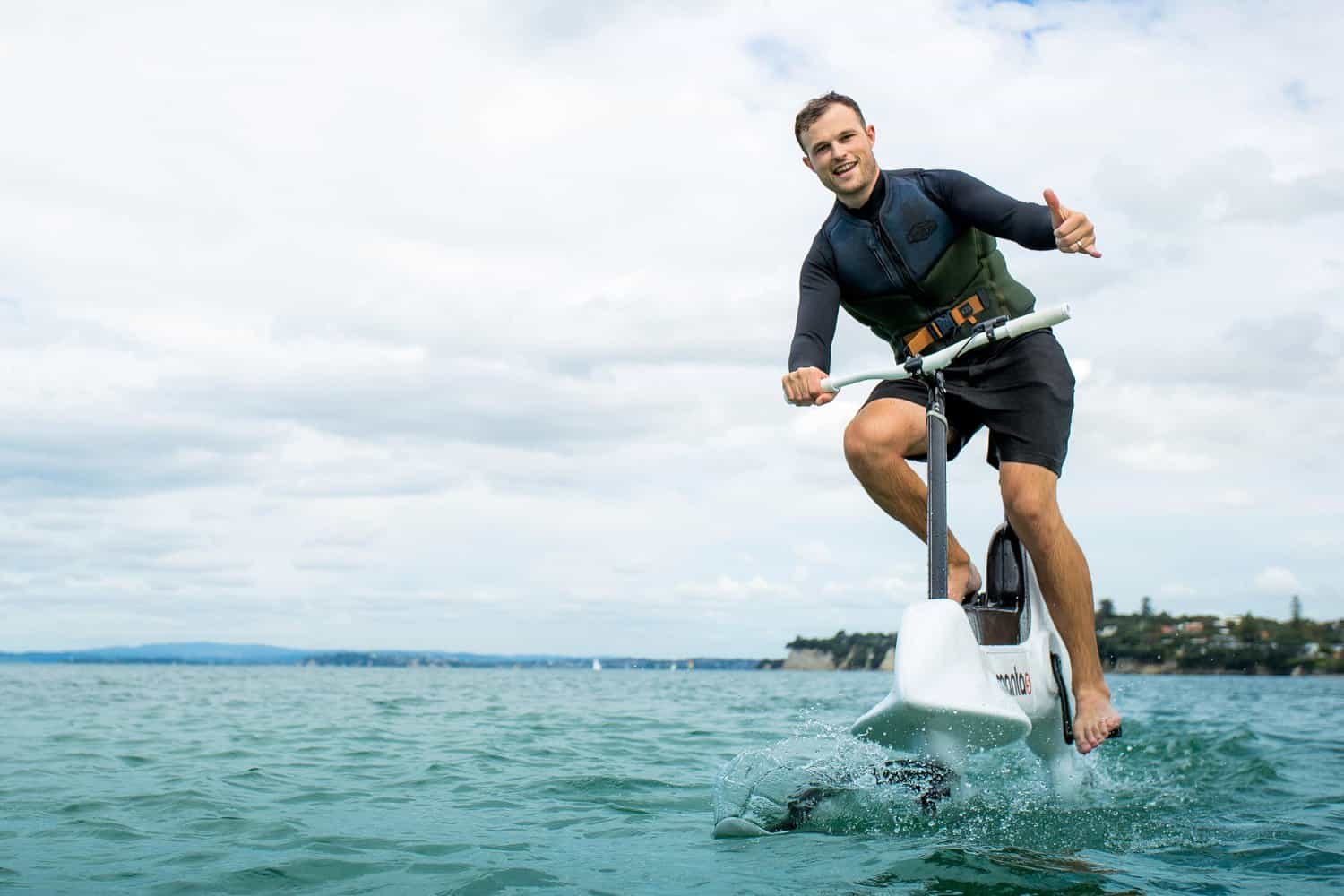 Water Sports is not always about thrills, and there may be one odd day where you feel like "chilling out" in the sea without creating too much of fuss. This water bicycle is one such cool water sports equipment that allows you to experience the serenity and calmness of the sea without making too much noise. Find it here.
Why swim when you can literally "vroom" underwater? This cool water sports equipment comes with a built-in camera to capture breathtaking views underwater that otherwise seem impossible without a high definition professional camera. Find it here.
Time to get your Fast and Furious mood on with the World's fastest Amphibious car. This awesome motorized water sporting gadget is more than just a vehicle that can float on the water. It's a multipurpose manually operated car that can run on both grounds as well as water. So if you think where your Bond identity has been as of now, this is the time to unleash it. Find it here.
A boat that can fly? You must be kidding me. Right? Well, not exactly. Because this is precisely what Flying Amphibious Boat is all about. This product is one of the unique water sports gear and gadgets that can give any traditional kayaking boat a run for its money for it, not just sails; it FLIES as well! Find it here.
You May Also Like To Read: 16 Cool Water Sports Gadgets You Wish To Have For Your Summer Holidays