20 Coolest Bottle Openers You Can Buy For Your Home Bar
Nothing can replace the feeling of having a chilled beer with your close buddies. No need to crack open cold ones with those old boring metal bottle openers. We can't keep up with everyone's taste about what makes the best bottle opener, but we do know what makes a cool bottle opener you can get for your home bar.
What makes a bottle opener the coolest one? A unique and creative design with durability and of course the ability to pop up your chilled beers, soda, and other beverages.
Also Read: Wine Stoppers To Preserve Your Wine Bottles
20 Coolest Bottle Openers For Cracking a Cold One
The Internet is so full of options, and sometimes it's hard to find one that makes you say "this is what I need." So for all our booze lovers, we've got you covered with this list of 20 coolest bottle openers you can actually buy.
Following the old saying to "keep an ace up your sleeve" but it comes with a little modification with that Ace. This ace won't help you out with the real poker game instead it will help you out to pop up the cap of your chilled beer bottle. Casino ace card bottle opener made of stainless steel featuring a hole in the center to pop up chilled beers. Get It Here.
Well, who doesn't like Marvel characters? This could be a perfect gift for the Thor fan in your life. Set your bottle opening experience to another level by asking help from the Asgardian. A tiny bottle opener which looks just like a real Thor hammer. A Thor hammer ready to crack open your chilled bottles. Get It Here.
Bring home this peg-legged Pirate. Forget Blackbeard, 'Legless' is the hardest working pirate in the bar! This cool pirate bottle opener features corkscrew with an easy open lever, foil cutter, and beer bottle opener. Made from stainless steel with matte black rubber. Get It Here.
Bring back old days with this Vintage wall mount plaque bottle opener. The plaque is wooden walnut stained. Also comes with a metal bucket to catch and hold popped up bottle caps safely into the bucket. A gift that would go perfectly with any home décor. Great for you cottages, bungalow, kitchen, barn, log cabins, bar, and gift giving or anywhere. Get It Here.
A metal art wall mounted funny legs Bottle Opener perfect for white elephant gift ideas or gag gift ideas. This handmade bottle opener is made up of 16 gauge raw steel with a rustic brown finish to go with its vintage look. Easily mounted using 2 screws. Great for home bars, beer coolers, kitchen or man caves. Get It Here.
One can never do such a big mistake as to forget including an item from one of the greatest movie franchise of all time in a geeky list like this. Get wasted using this geeky Star Wars Millennium Falcon bottle opener. A classic design as force awakening. High-quality opener constructed out of Zinc alloy metal. Great gift idea for Star Wars fans and collectors. People who love to drink can always go for it. Get It Here.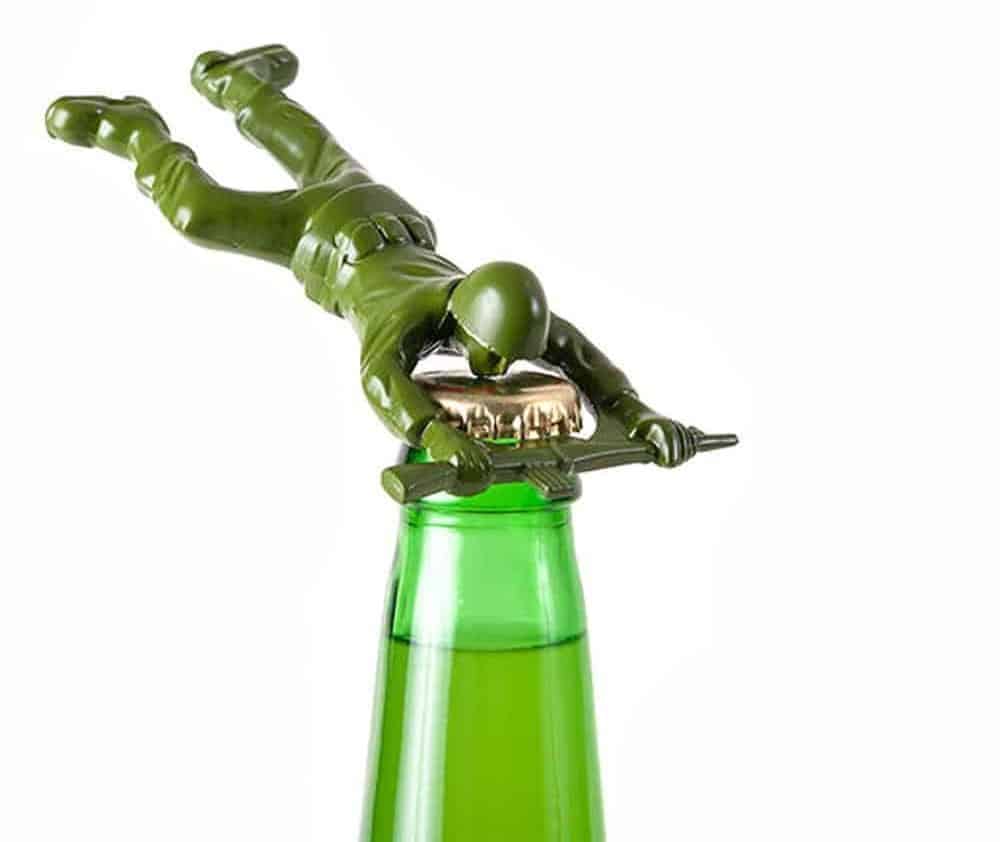 Inspired by a toy from our childhood, green army man toy from children's play time to adults drinking time. Heavy and sturdy made of a durable die-cast metal. A perfect gag gift idea for your army man or for your beer buddy. Pop up your beer bottles with this nostalgic toy. Get It Here.
If you are on a hunt for an amazing multi-tool, this would be the thing you should go for. This small titanium Hexflex multi-tool features an incredible 15 tools including a bottle opener. It could be your everyday tool you can carry in your pocket or key ring. Get It Here.
A great piece of artwork with a purpose to pop up your beer bottles. What a fun! A cool octopus bottle opener to place in your kitchen, a perfect conversation starter. A handmade constructed out of cold cast alloy with stainless steel which makes it more detailing. Can get mounted to your kitchen walls to get all the eyes on it. Get It Here.
Cap Zappa beer bottle opener with cap launcher. Opening your bottles have just got more fun. An ideal party gadget to showoff in front of your friends and onlookers with this cool bottle opener cap launcher. It not only opens up your bottles but its spring-loaded mechanism allows you to launch the cap up to 5 meters. Pop the cap, aim, fire, then just sit back and enjoy your tasty beverage. Also comes with a convenient keychain. Get It Here.
If you are a collector or a fan of Deadpool, here is the most bad-ass bottle opener just for you. An exclusive gift idea for Marvel fans and for people who love Deadpool and love to drink. Made up of solid metal with a polished chrome finish. Measures 4 inches tall with a magnet on the back. Get It Here.
A durable stylish wayfarer made with aerospace grade titanium with an unimaginable wow feature in it. A functional bottle opener, WHAT! Yeah, bottle opener sunglasses. It's kind of the strongest sunglasses you can find. World's lightest nylon polarized lenses with scratch resistant and 100% UVA / UVB ray protection. Pop up bottles and be stylish. Get It Here.
An ideal gift for groomsmen, fathers, husbands, and beer lovers. This 50 Caliber BMG Real Bullet Bottle Opener is handcrafted from genuine 50-caliber BMG brass cartridges after each cartridge was fired once. Comes with a gift box. 100% real brass bullet and not a replica. Get It Here.
Can you pop open any brew with single-handed, well with bottle opener ring you can? A novelty gift idea or a gift for your beer buddy. No need to ask around a bottle opener at a party. Handy and cool to wear it everywhere. You never know when your favorite alcoholic beverage will be available, so be prepared to pop it off. Get It Here.
An animated gift on the multi-purpose bottle opener, a hammer head shark that can be used as a corkscrew and bottle opener for wine and beer bottles. Comes in chrome and brass plated 2-in-1 cast metal which makes it look good with durability. A perfect gift for people who love to drink. Get It Here.
Now you can crack open cold ones with Batman. One of my favorite bottle opener and character inspired by DC comics. This Batman multi-tool is no ordinary keychain that you see around every day. This cool Batman multi-tool has 4 in 1 features in it. A bottle opener, keychain, crosshead screwdriver and flathead screwdriver. A perfect gift for Batman fans and collectors. Get It Here.
Math can do wonders. But not all can apply the math in a way to make good out of it. But with this Pi bottle opener, you can at least open a bottle for sure. Could also gift it to someone who is crazy about mathematics. Get It Here.
A beer mug with a bottle opener a perfect gift for a true beer lover. What an interesting combo. Always be prepared to enjoy the icy chilled brew with this beer mug that has integrated bottle opener. The mug features a traditional diamond cut pattern at its base and a solid stainless steel bottle opener at the bottom of the glass with a magnet so that bottle caps won't fly away when you pop up a cold one. Get It Here.
Before we talked about Deadpool, Star Wars and Batman too. But we shouldn't just forget the strongest villain in the MCU "Thanos" and his Infinity Gauntlet. The famous Infinity Gauntlet worn by Thanos the Mad Titan is now one of the strongest bottle openers in our list! Just kidding. It's made of a durable metal with attached magnates on its back for fridge mounting. Also has 6 infinity stones glued on it. Makes it a perfect gift for fans and collectors. Get It Here.
Cracking up your cold beer bottles can't be more surprising than this. A flip-flop that comes with a hidden bottle opener sound fun right? Reef flip-flop for men with a church key bottle opener built into the rubber outsole. It has molded EVA footbed for maximum comfort and is water friendly. Get ready for water adventure with these flip flop for men. Get It Here.