14 Unique & Creative Piggy Banks For Kids And Adults
Okay! So you are not one of those who is looking for a secret diversion safe to hide your hard cash. And you just got the idea to start doing some savings so that in future you may need for a secret safe box too. Well, I must say, you just did a wonderful mindset on that.
No matter you are a kiddo or an adult to start doing some savings you should always start with the piggy banks.
When it comes to small savings piggy banks are great. And by the words "piggy banks" or "coin banks" don't get the wrong idea about a boring or lame box with a coin slot in it.
Saving money is good but what about the fun. So start planning out your savings as according to your desire. When you do smart savings with a specific goal, it will encourage you to save even more.
So make a list of coolest things, cool stuff or innovative gadgets you could buy with your savings. I know those desires are never-ending thoughts.
Check out some of the desirable things that will encourage you to save even more, Coolest USB Flash Drives, Coolest keyboards, Hardest Rubik's Cubes, Camping Essentials, Cool Table Lamps, Unique Coffee Mugs and more.
Unique & Creative Piggy Banks For Kids And Adults
So let's make the first step to start saving money. Here are some of the most unique and coolest piggy banks that will help make saving money more fun.
Easy storage and accurate on counting your dimes. A perfect novelty gift for kids who love to save and store money in their piggy banks. This digital coin banks can help you count the coins to achieve your desired saving, the biggest and only problem we face with regular piggy banks. Find it here.
A perfect size novelty gift for your little ones or for the baseball fans. Get a good hold on your money with this unique design baseball piggy bank. Hand-painted ceramic ball to store your money. Start saving money to buy the tickets for the next match of your favorite team. Find it here.
Donate a coin & enjoy the show! This super cool vortex piggy bank will entertain you every time you make a saving. This amazing piggy bank will encourage you to save more just to enjoy the show when putting your coins in this piggy bank. Just put a coin into this spiral piggy bank and watch as the coin circled round and round and round. Find it here.
Inspired by Kaonashi from Japanese animated film Spirited Away. Just put the coin on the plate, it will sing a song, hiccups and eating the coins. This No face man coin Piggy Bank will make your piggy bank savings even more fun. Great gift idea for kids. Find it here.
Another cool money saving gadget. This cute looking panda is actually so good at stealing your money. Works with 2*AA battery. Just put a coin on the white try on the box the innocent panda will take your money away secretly. Kids love to see the panda stealing their money and this make them save even more. Find it here.
A perfect gift idea for Deadpool fans or collectors. This highly detailed Deadpool coin bank not only saves your money, but it also looks great on your shelf or in your display case. Marvel fans will go crazy about it. This can also be used as birthday cake topper for theme parties. Find it here.
A coin bank made up of 148 pcs of LEGO. This LEGO accessory comes in 148 pcs which you have to put together to make this cool LEGO piggy bank. A perfect gift for your kids or little ones who love LEGO projects. It will help you save money and will perfectly fit your LEGO collection. Find it here.
A classic sturdy and high-quality metallic robot coin bank here to serve you with its two features. Saving your money and adding decor to your living room. Also features a rubber stopper. Made of porcelain. Comes in a window box. Bigger in size to fit in a good amount of money. A perfect birthday gift idea for kids. Find it here.
An officially licensed Star Wars Storm Trooper here to save your money. Star Wars fans kids/adults will go crazy about it. Ceramic Life Like Storm Trooper Piggy Bank. Hand-painted each piece to give it a personal touch. Comes packed in an official Star Wars colored box. Find it here.
This Disney Jack bust bank is a perfect gift you can use for many occasions. It could be a perfect Halloween gift idea, it could be a perfect Halloween cake topper, and it could be a perfect tree topper for your Christmas tree. And it could be a perfect bust bank for kids to save their money. It has a slot on its back for coins. Find it here.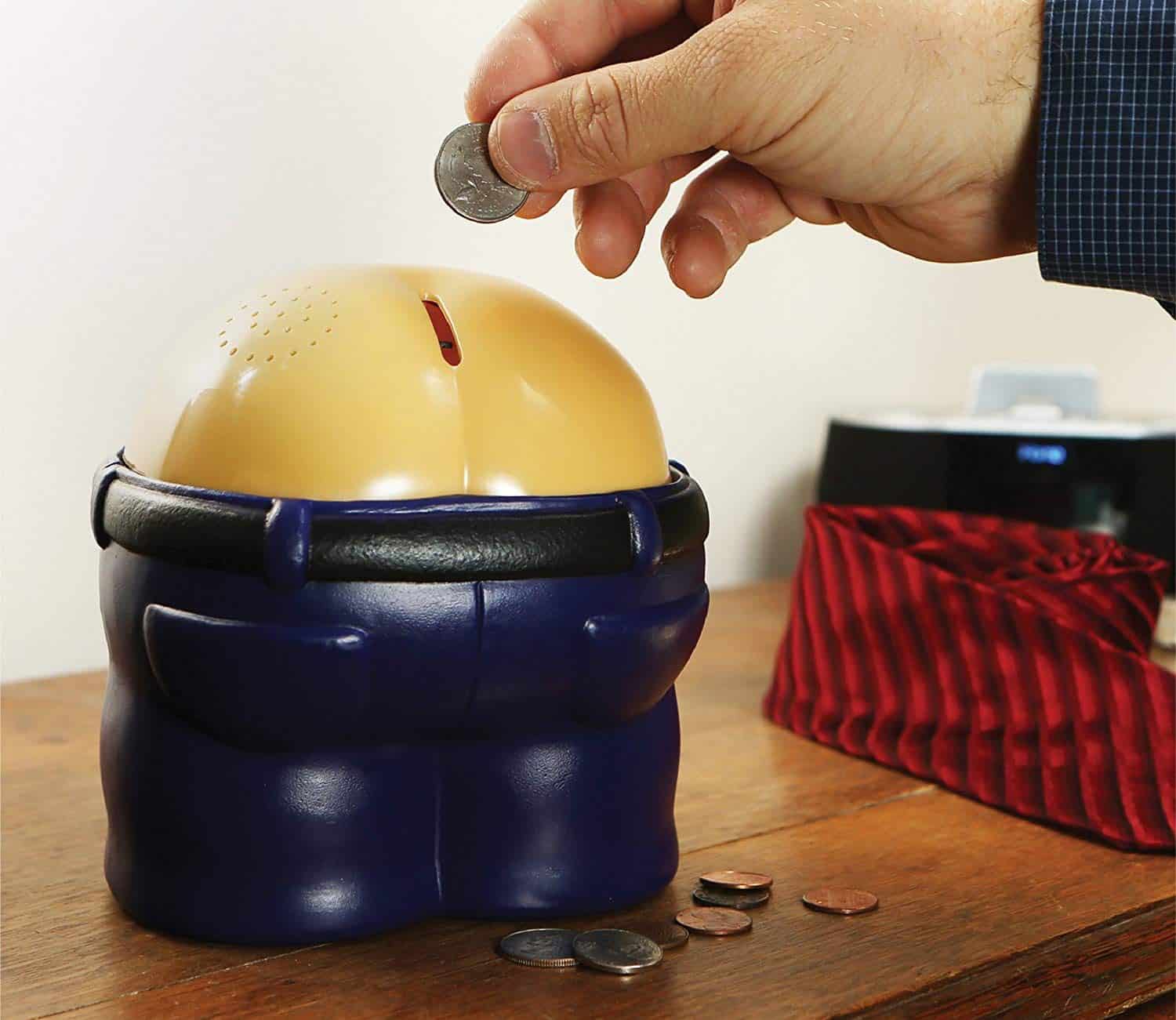 A unique funny piggy bank that comes in the shape of fanny. This funny gag gift could be a great white elephant gift idea. The piggy bank has a coin slot right in the middle of the fanny. Every time you put a coin in the slot it makes a fart noise. Find it here.

This giant piggy bank Totoro is inspired from a character in Japanese animated film "My Neighbor Totoro". Let the kids/adults save even more with this Totoro giant piggy bank. This 9-inch tall coin bank can hold your bigger savings. Cute looking Totoro is holding an umbrella. Definitely an awesome gift for any Totoro/Ghibli fan! Find it here.
This coffee-colored decorative clear glass piggy bank is a wonderful addition to your home décor or kids who love to save their money. Made of high-quality glass piggy bank. It would make a great gift idea for kids and family. Keep an eye on your saved coins in this generously sized piggy bank. Find it here.
A robotic kitty in the bank who will secretly steal your money and save it in the piggy bank. Kids find this piggy bank ridiculously adorable. Get your coins out from the bottom and feed kitty again and again. This coin stealing cat comes in two colors orange & white. It could be a great gift idea for kids. Find it here.